Lots to Launch at The NEC Autumn Fair
The NEC Autumn Fair is the season's largest gift fair with 5 halls filled with a diverse selection of household goods, gifts and accessories. It is an unmissable opportunity to network, gain industry insight and the perfect platform for Laltex Group's retail divisions Lloytron, KS Brands and RJM to showcase exciting new products, innovations and extended ranges, along with special show deals.
With an air of excitement and anticipation, Lloytron launched their new look, fully responsive trade website at the Autumn Fair. The new website offers fantastic new features to make ordering faster and easier for the customer combined with the highest level of security. Log on to www.lloytron.com and take a look at the exciting new site! The new trade website has had great feedback so far and Lloytron are excited to see how their online platform evolves and grows into the New Year
Also at the Autumn Fair, Lloytron launched the new 2015/16 Catalogue Edition, featuring a host of exciting new products specially sourced to continue offering the "affordable quality" now readily associated with Lloytron products. Lloytron have already had an excellent response to the new collection, in particular the extended range of LED Reading Lights, specially designed for maximum eye comfort, and the new BEAB approved 3kw Stay Warm Fan Heater which is suitable for both upright and flatbed use.
RJM launched their three fantastic new winter catalogues at the Autumn Fair; Hosiery with Belts and Handkerchiefs, Winter Hats, Gloves and Scarves and Autumn/Winter Sleepwear. All offering a stunning and diverse collection of quality products at competitive prices spanning a number of RJM's core brands. The new collections looked amazing on the stand, with eye- catching prints and on-trend style, the range gathered great interest from passing customers.
The Autumn Fair was also a great platform to reveal RJM's new Foxbury brand, demonstrating the contemporary and stylish designs, commercial on-trend prints and affordable quality. First impressions were fantastic and the Foxbury collection is sure to grow into 2016.

KS Brands were excited to launch their two new winter catalogues; 2015-16 Slippers and Accessories, and 2015-16 Umbrellas by Drizzles. Designed in house in the UK, many products and prints are unique to KS Brands; you won't find them anywhere else. This was a huge selling point at the Autumn Fair and in particular the exclusive Drizzles umbrellas proved popular.
KS Brands also showcased their huge selection of Disney™ items featuring characters from Frozen, Minnie Mouse, Mickey Mouse, Spider Man, Star Wars and Disney™ Princesses just to name a few, across a number of product lines including umbrellas, gym bags, blankets, towels, caps and much more. This category is growing well for KS Brands and is planned to expand into the New Year.

With 6 new catalogues and a brand new trade website launched at the Autumn Fair, it was a very busy time in preparation and execution for the Laltex Group. However, with many orders taken and leads generated it was well worth the effort. The success of the Autumn Fair promises well for 2016.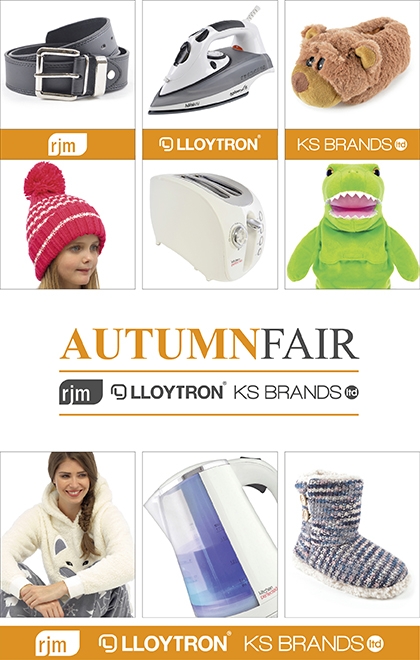 Archive