US Office
The Laltex Group has a global reach spanning many countries; our American sister company, Sunscope, was established in the US back in 1943 and acquired by the Group in 1982.
Sunscope's Chief Operating Officer is Dilip Bhavnani, cousin of our MD, Sanjay Mulchand.
Originally hailing from Bramhall in Greater Manchester, Dilip is now based in Los Angeles and oversees the entire Sunscope operation from the ground up.
Originally an importer of product to retail and mail order, Sunscope began supplying promotional
companies in the mid 80's, joined the Advertising Specialty Institute (ASI) in 1987 and became a
top 25 supplier in 1997. The growth continued with the acquisition of Premium Shapes, Affinity
Business Products and the creation of Premium Video Books.
The scale of the American operation is much larger than that of the UK. Sunscope has over 700 employees across all divisions, with the main premises in Los Angeles measuring almost 200,000ft2 and second premises in Alabama boasting 5 buildings and 564,000ft2. Sunscope has 11 promotional brands, each with a different product offering, culminating in over 2,000 SKU's.
We caught up with Dilip to get an insight into the promotional products world on the other side of the pond.
What do you see as the main difference between the promotional industry in the UK and the US?
Volume. The US is the biggest user of promotional products in the world with annual sales between US$22 and US$45 billion (depending on whose research you use). We have the pleasure to work on some very large and exciting programs. How often do you meet with our UK staff? Unfortunately, I don't get to visit as often as I would like, only every 3-4 years, but our US teams meet with the UK teams in the Far East and share ideas and resources.
What makes Sunscope different from other US suppliers?
At Sunscope we think of ourselves as being a bit more than just import, decorate and deliver. We spend the time to ensure our production facilities are audited, our products are tested to the highest level and ensure we offer extremely competitive pricing. In addition to the day to day business, we are extremely well known for our sourcing capabilities for large programs and our ability to create unique custom products which have never been seen before.
What are some of the weirdest product enquiries you get?
We work on some very interesting enquiries; the weirdest was from a client that wanted us to create an indoor flying disc that kids could use without hurting themselves or damaging anything in the home. We did it and you can see the product range under the Sliders brand name!
Any exciting plans for the future of Sunscope?
We always have new plans to grow! With 10 full time product designers on staff, we are working on many new products and ranges that will keep us one step ahead of our competition. We have recently partnered, developed and acquired patented technologies that will be showcased in 2018.
There are exciting times ahead for Sunscope and although the UK and US operations are run separately, the great advice and ideas from Dilip and his team are invaluable. Dilip sums this up perfectly with an ethos both companies share; "Sanjay and I speak regularly about our businesses with one common goal of how to continually improve them."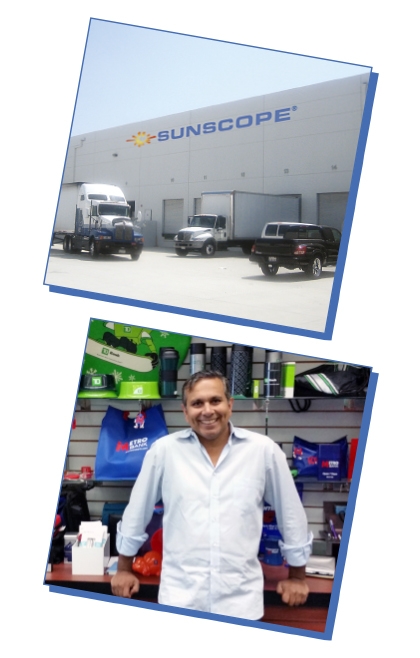 Archive