Buzzing about Bee in the City
This summer Manchester was abuzz with one of its most spectacular public art events, 'Bee in the City', with over 230 bees on display. We are un-bee-lievably proud to have been a part of it, sponsoring a giant bee on behalf of our charity The Seashell Trust.
Children, young people, staff and volunteers at the Seashell Trust collaborated to create a bee designed to encourage children and young people with sensory impairment to engage with art work. The unique bee lights up when approached and buzzes, it also vibrates when touched. The buzz noise was produced by Chris Emerson, viola player with Manchester's world leading Hallé Orchestra.
After months of hard work and with a lot of Manchester spirit 'Shellbee' was completed and sat proudly on display inside the Royal Exchange Theatre creating a real buzz around town!
Thousands of people swarmed to discover Manchester's bees with the final auction of 77 giant bees raising an enormous £1,128,250 for the We Love MCR charity! The newfound celebrity 'Shellbee' however was happy to fly back home to The Seashell Trust, to be displayed as a proud and lasting legacy, bringing sensory enjoyment to the children and young adults who helped with the build.
The Seashell Trust is a national charity supporting children and young adults with complex learning disabilities and additional communication needs across the UK. Laltex Group has been a friend of the Seashell Trust for over 10 years and relished the opportunity to be involved in this project.
For more info on the trail and the success of the auction please see - https://beeinthecitymcr.co.uk/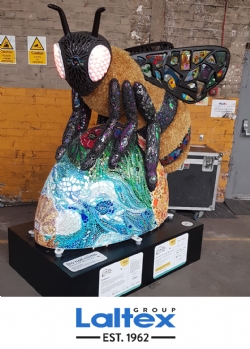 Archive