Laltex Win PAGE Supplier of the Year Silver Award
Laltex Group have been honoured with the 'Supplier of the Year 2021-2022 Silver Award' in recognition of their outstanding service and supply of products to members of the PAGE Partnership.
The team celebrated their win with fun, food and festivities at the annual awards dinner held by PAGE which took place at the Delta Warwick Hotel on Thursday 9th June 2022.
Chris Nelson, Divisional Head at Laltex Promo who accepted the award alongside colleagues Lucy Cooper (Pencom) and Rachel Salisbury (Bags HQ) commented:
"I was delighted to see Laltex Group win silver at last week's PAGE Awards dinner and would like to say a big thank you to all the PAGE members who voted for us! The world continues to throw various challenges at our industry and we truly appreciate the support we receive from all PAGE members who work alongside us – it's much appreciated."
2022 is shaping up to be a great year for the promotional merchandise division who have received numerous industry accolades so far; recent awards include 'BPMA Supplier of the Year £2m+', 'Sourcing City Major Wholesaler of the Year' and Encore catalogue group's 'Supplier of the Year 2021/22'.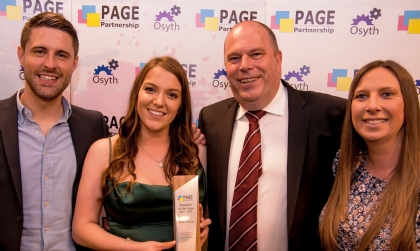 Archive