Laltex Group Win BPMA Supplier of the Year Award
The Laltex Group are thrilled to have been awarded BPMA Supplier of the Year £2m+. Made up of 4 specialist divisions, Laltex Promo, Bags HQ, Pencom and Source It, every member of the Laltex Group shared in the celebration of their joint achievement. They would like to take this opportunity to thank everyone who voted them winners.
Neil Horner, Divisional Head of Laltex Promo, commented:
"What a fantastic achievement for the team, it's our first BPMA award and we couldn't be more thrilled. Thank you to everyone who took the time to vote for us and for your continued support. It was great to see so many of you at Merchandise World."
"We have the best team at the Laltex Group, I'd like to thank every department for their hard work and dedication. Here's to an even better 2019!"
Andrew Williams, Managing Director of Pencom, accepted the award on behalf of the Laltex Group at the Merchandise World show held at the NAEC Stoneleigh from the 30th to the 31st January 2019.
To continue the success into 2019, Laltex Group have invested in new machinery for the in-house print shop, offer more product choice than ever in UK stock and continue to develop the online trade portal with new and exciting resources to make ordering quicker and easier for distributor partners. Contact the Laltex Group at sales@laltex.com for more information.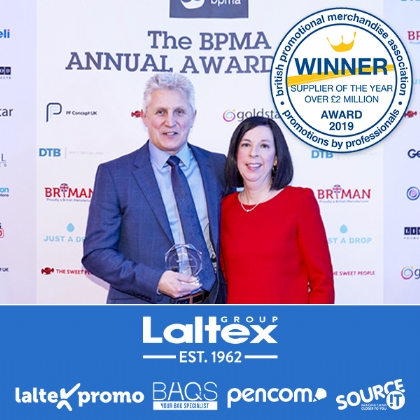 Archive