Winners of Advantage Group Supplier of the Year
Laltex Promo are delighted to have picked up another industry award at the recent Advantage Group dinner, being voted 'Group Supplier of the Year 2017/18' by the group members.
The dinner was held on 2nd July 2018 at Sopwell House Hotel in St Albans to celebrate the launch of the latest Advantage catalogue as well as to recognise the group's key contributors. National Accounts Manager Chris Nelson was pleased to accept the award on behalf of the Laltex Promo team.
Neil Horner, Divisional Head at Laltex Promo, commented:
"We're over the moon to have won Supplier of the Year from such a prestigious group. It's fantastic to be recognised for our team's hard work and dedication over the past 12 months – a big thank you to everyone at Laltex Promo! Thank you to all the Advantage Group members who took the time to vote for us, it's such a wonderful compliment."
This achievement follows the recent success of Laltex Promo being named 'Sourcing City Major Wholesaler of the Year' and Fluid Branding's 'Deadline Champion', both for the second year running!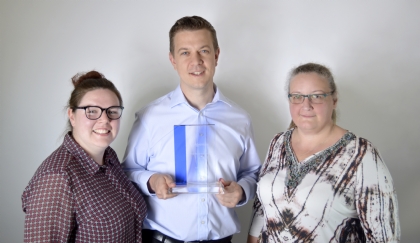 Archive