Lloytron Lights Up Green
Hailed as the latest cutting edge lighting technology, LED is the future of lighting. Abreast with this technology, Lloytron has developed a range of LED bulbs. The range currently includes golf balls, candles, GLS and GU10's and are available in cool white and warm white.
The LED technology enables the bulbs to operate at a lower temperature than standard bulbs, so much so that they give off virtually no heat, making them highly energy efficient. They are so efficient that they have an A* energy rating, with a 90% saving in energy efficiency compared to a standard incandescent bulb.
These new LED bulbs are not just 'green' in terms of using less energy, they also save money. The LED bulbs convert 90% of electricity into light energy equating to a reduction in energy bills. In addition to this they have a lifespan of 25 years, before needing to be replaced (the equivalent of 30,000 hours)!
Research carried out by Lloytron comparing a new LED bulb (lasting 25 years) to an equivalent incandescent bulb (lasting 1.6 years) translates into a monthly saving of 60p and over the 25 years equates to a saving of almost £180!
The new LED bulb range is presented in modern, quality packaging with a strong on-shelf presence and is available in shops nationwide.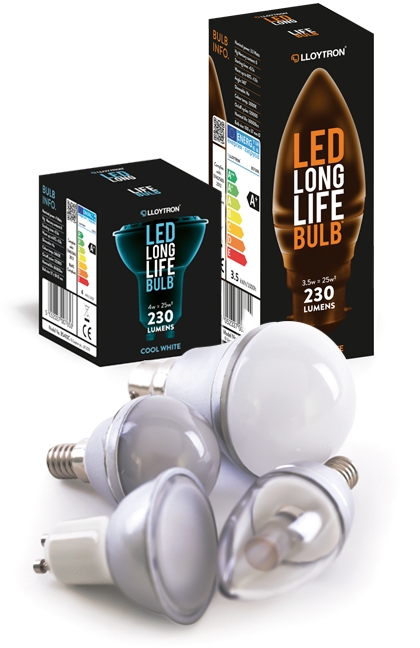 Archive