Laltex Turns 50 and Celebrates in Style!
2012 saw the Laltex Group in business in the UK for a fantastic 50 years. From modest beginnings in 1962, the company has continually grown onwards and upwards. Over 50 years Laltex has increased in numbers, in terms of staff, products and divisions. To allow for this growth, in 1999, the company moved to much larger premises, comprising of a custom built 220,000 square foot facility on the outskirts of Manchester. Today, this is where 112 staff work across 5 divisions and the growth continues.
As with any business, staff members come and go, and Laltex is no different. However, testament to the positive ethos of the company, are those staff members who have seen the company through the best part of those 50 years. Dhun Daji, Account Manager for Lloytron, has been with Laltex for 39 years; Zafar Gangjee, Warehouse Manager, 33 years and Errol Beaumont, Delivery Driver, 23 years. The year of the 50th birthday saw 15 staff members celebrate long service awards, culminating in a total of 110 years of service!
The official birthday month, September, saw a Hollywood themed celebration, attended by more than 90 staff, past and present. It was a fitting way to celebrate the achievements over the past 50 years and a toast to many more achievements in the next 50!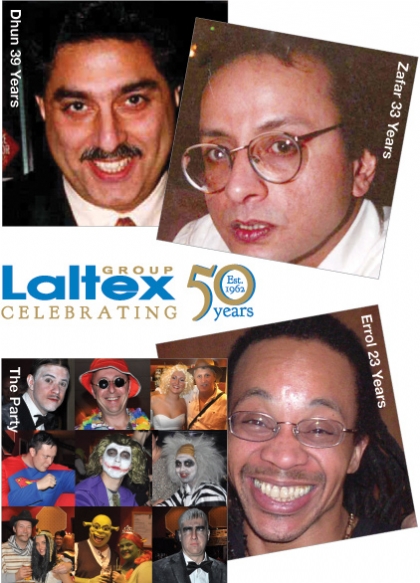 Archive