Laltex Receive Sourcing City Supplier of the Year Award
Laltex Promo has been named Major Wholesaler of the Year for the 6th year running in the Sourcing City awards and would like to thank everyone who voted!
As an exclusive trade only supplier Laltex Promo endeavor to be 100% focused on their customers and feel it is such a wonderful compliment to be recognised by them for the service they provide.
On winning the award, Chris Nelson, Head of the Laltex Promo division said:
"The whole Laltex family were over the moon to see we were voted Sourcing City Supplier of the Year for the 6th year running!
It goes without saying, this year has posed multiple challenges, that unfortunately still look to continue into the New Year. However to know that our customers have worked alongside and supported us through the ups and downs of 2021 genuinely means the world to us and we want to thank every single customer for their continued support and business throughout the year.
We wish all of our customers a great end to 2021 and a here's to a hopefully less turbulent and prosperous 2022!"
Winning Major Wholesaler of the Year is a massive achievement but they couldn't have done it without the hard work of their team members', whom they are incredibly proud of.
Looking ahead to 2022, Laltex are committed to helping their customers continue to grow and plan to do this through investment in new product, branding techniques, marketing support and continue to develop online services such as the trade portal to make this happen.
Congratulations also go to their sister company Bags HQ, who placed within the top 10 in the Specialist Supplier of the Year Award category.
Laltex also wish to thank Sourcing City for arranging the awards and for their support throughout.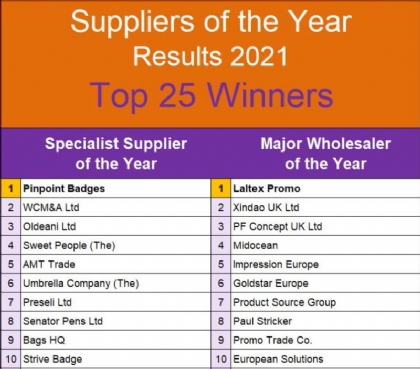 Archive