Laltex Promo receive Advantage Group Supplier of the Year 2019/20
The team at Laltex Promo are thrilled on being named Advantage Group Supplier of the Year 2019/20! Voted for by the Advantage group members themselves it is a real boost for the team who pride themselves on offering an excellent level of customer service, sound advice and of course a fantastic product range.
Neil Horner (pictured), Managing Director of Laltex Promo commented on the victory:
''For me, this represents that we care for our customers. It means so much, especially this year, it has definitely been a crazy one that we won't forget. We can't thank our fabulous customers enough for all their support!
As a team, we will continue to do all we can to support our distributors and make their lives as easy as possible when buying promotional merchandise. We're looking forward to 2021 and hopefully we will get to see our customers again very soon. Thanks again!"
This achievement follows a long line of successes for the team including the most recent 'Major Wholesaler of The Year 2020' accolade in the annual Sourcing City Awards. Here's hoping 2021 is just as rewarding and with so many things in the pipeline, watch this space!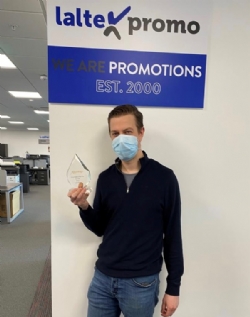 Archive