5th Time Winners of Major Wholesaler Of The Year!
Laltex Promo has been named Major Wholesaler of the Year for the fifth year running in the Sourcing City awards and would like to thank everyone who voted!
As an exclusive trade only supplier Laltex Promo endeavor to be 100% focused on their customers and feel it is such a wonderful compliment to be recognised by them for the service they provide.
On winning the award, Neil Horner, Divisional Head of the Laltex Group said:
"Winning the Sourcing City Major Wholesaler of the Year award for the 5thtime running is a huge achievement for us, made even more poignant following the events of 2020 and the impact it has had on our industry.
Our main priorities throughout have been the safety of our team members and how we could further support our customers and we are thrilled that this has been recognised.
We genuinely think of all of our customers as partners and believe that by supporting each other we can and will get through these difficult times.
I would like to take this opportunity to give my personal thanks to all of our team for their incredible efforts this year and to wish all of our customers a Merry Christmas and a peaceful and prosperous New Year"
Looking ahead to 2021, Laltex are committed to helping their customers rebuild and grow and plan to do this through investment in new product, branding techniques, marketing support and continue to develop online services such as the trade portal to make this happen.
Congratulations also go to their sister companies Bags HQ and Pencom who were recognised in the Specialist Supplier of the Year Award category.
Laltex also wish to thank Sourcing City for arranging the awards and for their support throughout.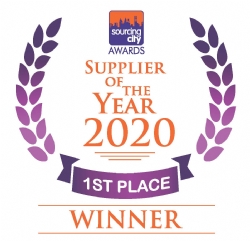 Archive