Success at the NEC Spring Fair 2015
The NEC Spring Fair showcases the newest products, innovations and trends from over 3000 exhibitors and has been a key exhibition for Laltex Group's retail divisions for many years. Armed with exciting new products and special show prices, Lloytron, RJM and KS Brands travelled to Birmingham for the 6 day exhibition.
KS Brands launched their Summer 2015 Bags and Footwear Collection at this years Spring Fair, showcasing an exciting range of summer products. From stunning, coordinating beach bags and flip flops to leopard print festival wellingtons and children's glittery sandals; the new catalogue received a fantastic reception.
RJM presented their nightwear, winter accessories, socks, underwear and home textiles collections focusing on key brands Tom Franks, Wolf and Harte, Walter Grange and Home Editions. With a growing and comprehensive product range, RJM found the Spring Fair a fantastic arena to trial new product ideas and stay one step ahead of the trend. With stunning new designs and styles in the pipe line, make sure to look out for RJM's Spring/Summer 2015 Catalogue.
Lloytron launched a number of new products which, alongside the existing range, combine to offer an improved and comprehensive collection spanning small domestic appliances, home electrics and lighting including expansion to the Paul Anthony™, Staywarm™ and Kitchen Perfected™ ranges. The new products looked fantastic on display at the Spring Fair and are set to be a great success this spring.
Lloytron, KS Brands and RJM found the Spring Fair to be a great triumph and are off to a fantastic start to 2015.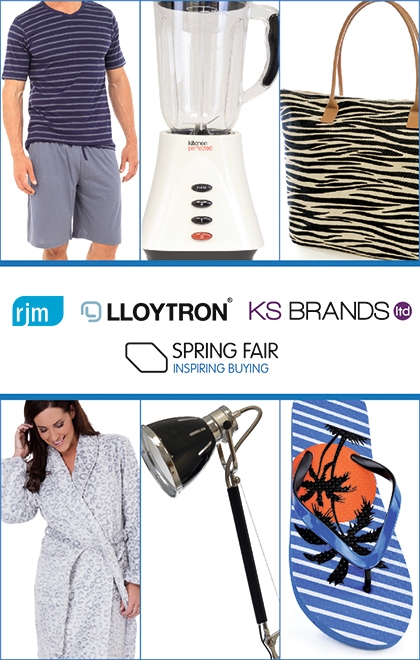 Archive